Tastefully done, romantic bedrooms are believed to increase the closeness and high connectedness in each and every couple especially newly married ones. How to decorate a newly married couple's room is not something the friends or family worry about anymore. The trend of outsourcing wedding planning to event management companies made it possible to have the best day without worrying about the venue, guest lists, marriage decorations or caterers.
Now that the fairy tale wedding is over and the high-end custom made decorations are off, you need to look at the space you are going to spend together for a long time. Nowadays everything is at your fingertips and finding your ideal home is much easier with sites like magicbricks.com.
If you are like most of the folks, bedroom decoration and customization will be way down your priority list. You'll end up allocating most of your resources and time to the most visible, shared spaces. Arguably the most intimate space gets the least attention it deserves. Making yourself a cozy love nest doesn't have to be a daunting, bank breaking endeavor anymore.
Do it together: From the get go, both parties' requirements should be taken into consideration, and sensible choices are made. You might be pleasantly surprised to find an artistic eye or great sense of trend in your spouse. Dreaming and doing it together can also help in settling on more reasonable picks and avoid contention later on.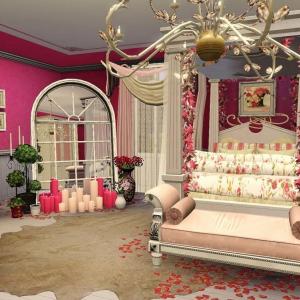 Plan ahead and choose an inspiration: It's always best to set out after taking an inventory and knowing what your requirements and resources are. Zeroing in on your style inspiration, will better equip you to handle the budget and shop efficiently.
Splurge on quality: The extra money you spend on quality material, furniture, upholstery, and linen will be well worth in the long term. Excellent comfort and quality décor set the tone of your bedroom.
Tasteful Accessorizing: More is not better when it comes to accessorizing your living space. A minimal number of elegant pieces will be enough to turn your space classy. By adding flowers, decorative items, and paintings, you can give the ambiance a boost and positivity.
Make a statement with colors, textures, and lighting: Inviting color palette and textures play a vital role in setting the mood of the room. The colors of the curtains, walls, furniture, carpets, etc. should complement each other. Light is a crucial element. Lack of sufficient light will give the room dull and depressing effects while rightly placed and adjusted it can render ideal romantic undertones.
By installing lighting fixtures suitable for different moods, you can create surreal effects. Though we cannot do much to increase the size of the room, by choosing the right color, light settings and critical piece placement you can create the desired effect.
Personalize your space While the thought of living in a pottery barn catalog may seem alluring, your most personal space ought to be a cozy retreat you just can't get enough of. Your love nest should be the most inviting, relaxed retreat than a page out of a home decor magazine. Comfort and elegance should set the vibe and statement pieces with personal memories will add to the charm.
Are you ready to set up your love nest?